A glass full of sunshine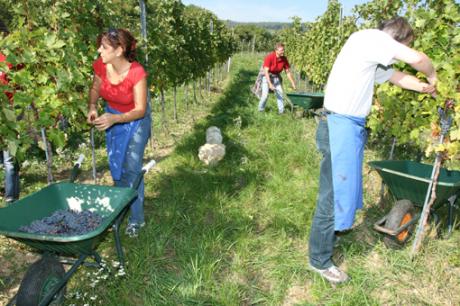 Wine belongs to the Pannonian attitude to life, like the sun, from which the vineyards in Breitenbrunn on Lake Neusiedl are kissed abundantly. The landscape alone makes the wine-growing area in the World Heritage Nature Park unique. No other wine-growing region in the world can boast such a landscape dominated by water, reeds and vineyards.
It is therefore not surprising that wine-growing has shaped this region since Roman times. And the wine culture outlasted all changes of ownership and confusion in the turbulent history. Today, those who stroll through the romantic cellar lane with the often richly decorated entrance portals breathe a piece of cultural history.
In recent years, the region has seen a turn in viticulture, away from mass production and towards outstanding quality wines and wines of distinction. The typical regional varieties of white wine include Welschriesling, White Burgunder, Chardonnay, Grüner Veltliner, Sauvignon Blanc, Zweigelt and Blaufränkisch. Depending on the climatic conditions of the year, excellent sweet wines and if the weather is good, the famous ice wine are pressed.
A guarantor for the very constant wine quality is the location of the wine-growing area. The gently wooded slopes of the Leitha Mountains protect against rough weather. The Pannonian climate and the huge water surface of Lake Neusiedl are the natural heat regulators which favor grape ripeness.