The salt marshes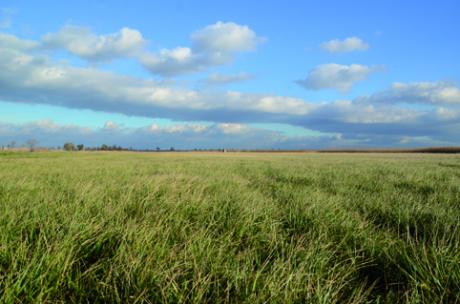 The salt-influenced open habitats such as the lakeside meadows near Breitenbrunn in the vicinity of lake Neusiedl have come into existence due to the soil and climatic conditions in the region. As one of the few remaining salt marshes on the western shore of Lake Neusiedl, these areas represent an important retreat and habitat for a large number of endangered animal and plant species and illustrate their ability to adapt to the salt content of the soil.
Man-made lakeshore
The shore of Lake Neusiedl is characterized by its extensive reed belt. For centuries, its edges have been used as pastures and litter meadows. On the land side, the reed belt was pushed back by mowing and grazing land and as a result an open landscape was created - the lakeside meadows, a valuable habitat for rare species.
Salty moist paradises

Salty moist paradises with varying salinity are the so-called salt marshes. In addition to the salt content, water and soil conditions create different ecological niches and thus provide habitats for a large number of particular plant species.
More information about salt marshes near Breitenbrunn can be downloaded here.

Source: Project NaNaNa / Arno Cimadom