Site plan & Arrival
In optimal position
The connections from Breitenbrunn am Neusiedler See Leitha Mountains to the public transport network and the motorway network are very good and extremely convenient. The international airport Wien-Schwechat can be reached in about 30 minutes by taxi or rental car.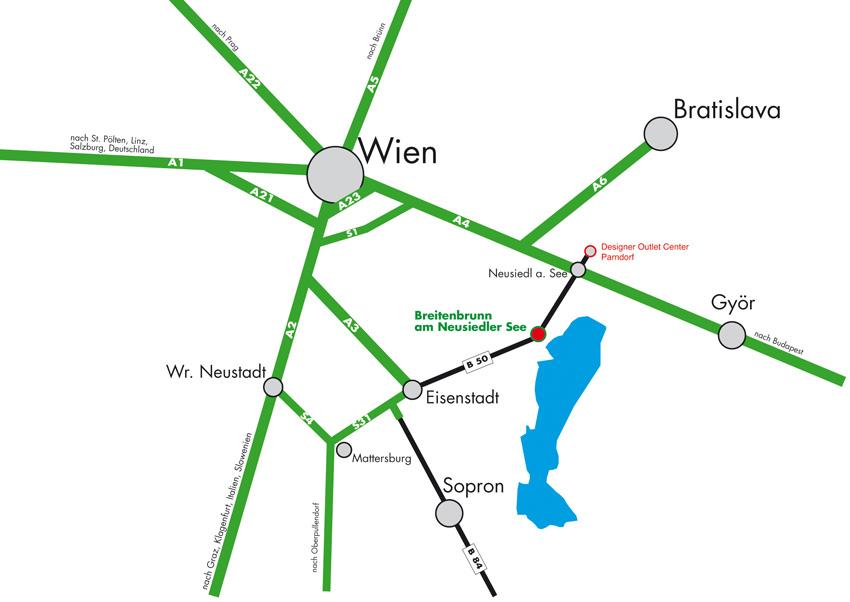 By car
From the A4 in both directions - exit Neusiedl/See - onto the B50 in direction Eisenstadt.
From the A2 in both directions - at Wr. Neustadt take the S4 towards Eisenstadt, Mattersburg, Hungary - before Mattersburg turn onto the S31 towards Eisenstadt until the Eisenstadt Ost exit - at the junction turn right onto the B50 towards Neusiedl/See.
Or from the A2 direction Graz to Wr. Neudorf on the A3 direction Eisenstadt up to the cross with the S31 - turn off in the direction Eisenstadt - exit Eisenstadt-Ost - on B50 up to the Nature park.
Simply plan your journey with the route planner.
By public transport
By train from Vienna Central Station directly to Breitenbrunn am Neusiedler See (there are also transfer connections via Neusiedl am See). To the timetable information of ÖBB
By bus from Vienna (Südtirolerplatz) via Eisenstadt - change here in the direction of Neusiedl and continue to the bus stop in the center of Breitenbrunn am Neusiedler See. To the timetable information from the Postbus.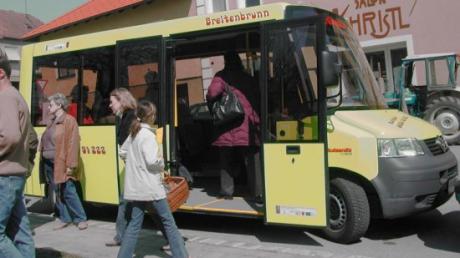 Eco-mobile on the road in the village
The GMOA bus makes many trips in the local area with your own car completely unnecessary and facilitates the eco- mobile journey from the railway station to the accommodation or excursion destination. The special advantage is that there are no fixed stops. Because the GMOA bus comes individually on call 0650 7091 222 (Mondays to Saturdays, during the summer months also Sundays) to the desired boarding point and brings the guests within the entire local area including Natural Lake Bath to any place and provides, if desired, also for the return journey. Transfer to train and bus is also a matter of course, but we recommend booking in advance. The eight-seater special bus is not only comfortable but also barrier-free - i.e. it can be used by wheelchair users.