Culinary Pannonian delights
The Pannonian cuisine corresponds to the cultural melting pot of the Habsburg (classic Austrian cuisine) and Hungarian influences.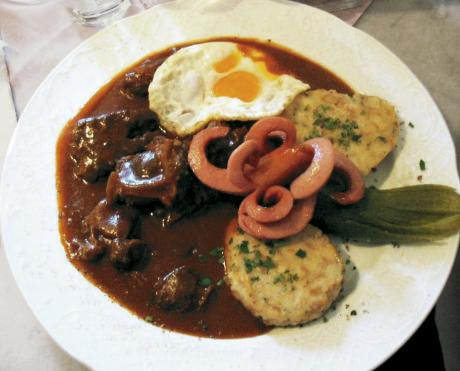 Fiakergulasch
This is manifested not least by the ubiquitous classic Wiener Schnitzel or the dessert that is simply worth a sin, the Szomlauer dumplings. Also in the goulash kitchen we are in no way inferior to our Hungarian neighbors: beef and veal goulash, Fiakergulasch, Szegediner Cabbage Meat, fish goulash with carp from Lake Neusiedl or a spicy mushroom goulash.
The Turkish besiegers made also their important contribution to the Pannonian cuisine, they brought the pancake and the coffee to this region. The originally Franconian settlers who founded Breitenbrunn brought hearty smoked sausage dishes and crispy roast pork (formerly Schäufele) with them, which are still eaten today. While spring is all about bear's garlic and cherry, goose dishes dominate from the end of October to the end of November, above all the classic Martini Goose. Summer is also the asparagus season here and winter is the game season.
In addition to all the culinary delicacies, a sip of good wine is a must in a classic wine-growing region. Wine-growing has been practiced in the area since Roman times and has a centuries-old tradition.
The probably most comfortable way to enjoy a "glass full of sun" are the Heurigen (wine taverns). Here one meets gladly with friends or like-minded and can enjoy beside the outstanding wines, also special goodies of the cold kitchen in the shady gardens and romantic cellars.