Hiking & walking
The panoramic hiking trail connecting all 5 nature park communities, runs mostly close to the forest line and offers a perfect view over the lake and the Pannonian lowlands. Moreover, it has several branching theme trails.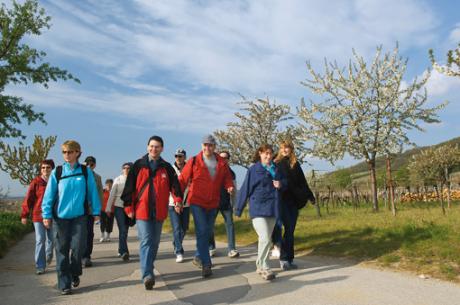 In Breitenbrunn this is the "waterway" which leads from the Weierbründl through the cultural landscape and the reed belt to the lake and includes the reed educational trail. The "Wine Culture Trail" leads through the most beautiful vineyards and past all contemporary witnesses of wine culture. The Wayside Shrine Trail connects the wayside shrines and torments of the village. No matter which way you choose, they are equipped with a modern guidance system.
If you like, however, you can also walk through the kilometer-long farm tracks between the vineyards and under the cherry trees as you please.
A highlight of every hiking year is the Cherry Blossom Hiking Day, a star hike to a changing destination in the nature park community. In 2015 it is the turn of Winden and the date can be found in our calendar of events from the beginning of the year, as well as the Breitenbrunn Family Hiking Day, which takes place in 2014 on November 9th from 7 a.m. (start and finish is at the Gasthof Hotel Turmhof).
Two hiking trails specially designed for wheelchair users and people with limited mobility, the Rosenberg Circular Hiking Trail and the Reed Trail are also very well marked. See also "Barrier-free experience".
The following hiking map can be ordered free of charge by clicking on "Order brochure".