Eldorado for water rats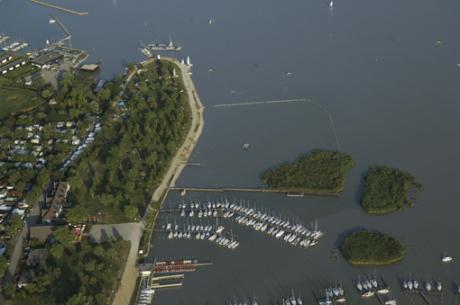 The natural lake resort of Breitenbrunn - one of the seven lake resorts on Lake Neusiedl is incomparable in its layout and size. Also the location, more than 2 km away from the actual lake shore, in the middle of the lake makes this bath so unique.
With its sand-gravel beach and the spacious sunbathing lawn, it offers bathing fun for young and young-at-heart. If you don't want to rest, you can really let off steam at beach volleyball. The little ones can also do the latter on the modern children's playground.
Safe swimming fun
The secured swimming area is taboo for surfers and all types of boats. Sufficient showers can be found at the beach promenade. Hot water showers, baby changing station for mommies and daddies, toilet facilities incl. handicapped accessible toilets and first aid station are located in the building of the lake resort administration. The camping and mobile home site, a lake restaurant and a lake buffet complete the offer. (seasonal opening hours)
Wind and waves attract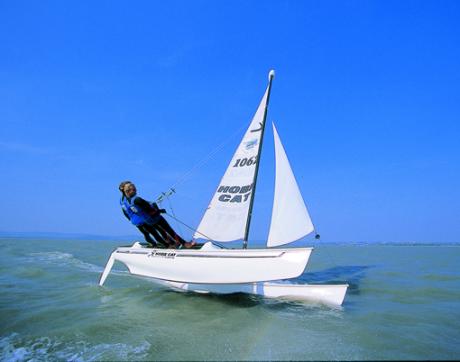 Due to the excellent wind conditions, Breitenbrunn is extremely popular with all sailing and surfing enthusiasts. A visible sign of this is the largest European inland marina, with almost 1,000 berths, which consists of a community harbor and a yacht club harbor. In both harbors guest jetties are available for holidaymakers or wander sailors. A crane system in the community harbor makes it easy for large sailing boats to moor. If there is a defect, there is a renowned boat builder in the village for assistance and repairs of any kind.
Guests are welcome
The marina has a spacious guest jetty for wander sailors and short vacationers. If you decide to move your boat to Breitenbrunn, you can rent long-term berths.
Learning and chartering
If you do not wish to travel with your own boat, you can rent one at a reasonable price from the boat charter company. A valid sailing license is required. If you don't have one yet, you can acquire it in the local sailing school, which is well known far beyond the borders. The same applies to the surf school.
Water fun also for bathtub captains
You don't have to be a professional sportsman to enjoy water fun. You can go out to explore the reed belt with a borrowed rowing boat, electric boat or a pedal boat . If you come in smaller or larger groups, you can charter a suitable motor ferry for exclusive excursions, festival transfers or simply a barbecue with wine tasting.
Sporty, sporty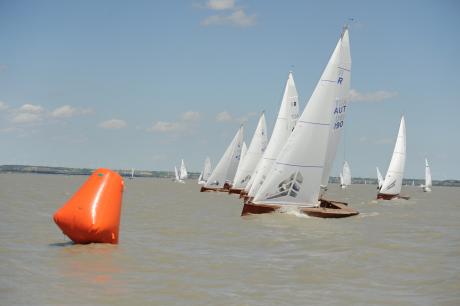 The natural lake resort and the offshore sailing and surfing area enjoy great popularity in a wide variety of competitions. Thus, many national and international competitions in sailing and surfing and a multitude of national regattas have been held.
Kite surfers are also welcome, but in the period from May 10th to September 20th the legally prescribed minimum distance of 200 m from the shore applies.